Foundation Piers

Wall cracks, tilting chimneys, hard to open doors and windows and any water in your basement are all signs of a settling foundation. If these warning signs go unanswered, complete foundation failure can occur. We are here to help with your foundation repair work. So, how do you fix your foundation problem? Give us a call. We offer patented solutions such as using steel piers that we drive into bedrock or appropriate support strata.
Foundation piers are designed with a rugged steel pier and bracket. The bracket is designed to connect the pier to the foundation footing. The steel pier extends downwards to bedrock and/or support strata. These piers are designed to last for many decades. The two types of foundation piers are: helical piers and push piers, each pier having particular strengths.
Helical Piers
Helical piers are perfect for supporting light structures like patios, porches, and steps. Helical piers are able to support patios, porches, steps, and similar structures, and they will provide durable support with an installation that lasts a day or two.The steps involved in installation include, first, an area around the foundation must be dug out to create a trench where the pier will be inserted into the soil. The pier is then driven into the ground below the structure. A bracket is attached to the footing of the structure, and to the helical pier shaft. Helical piers install easily on older or weaker structures. Also, helical piers and can be used for pre-construction or new construction bearing systems in unstable soils.
Push Piers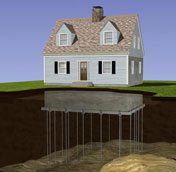 Push piers will give you the greatest foundation support. These pierspush pier foundation are pushed into the ground to bedrock or stable soil, providing an appropriate solution for homes and heavy structures. Because they install with little friction, they penetrate deeply and do not warp or bend. Push piers are also able to be used in low-impact interior installations.
When installation is complete, the structure will be lifted to a more solid, level position. As the foundation is lifted, the cracks and wall separations will begin to close.
Repairing the sinking foundation and ridding your Asheville, NC home of the signs of foundation settlement will guard your biggest single investment, your home. Contact Asheville Foundations & Basements, LLC today!