Crawl Space Jacks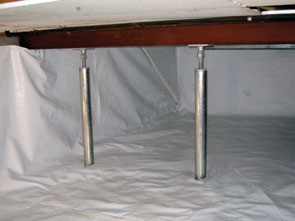 Homes throughout North Carolina are often burdened with moist or wet crawl spaces, and other issues like settling floors and sinking columns, sagging beams, or failing floor joints. These problems can be attributed to unstable soils beneath your crawl space. Foundation repair is necessary to homeowners with these problems to avoid structural damage.
We have your answer. Crawl space jacks offer simple installation, as well as the effective type of steel support which will provide stability and security to your home.
We use metal beams (space jacks) that are simple and inexpensively installed into your crawl space. These simple jacks are installed by first digging a hole and packing it with a solid base of engineered fill where the jack will be placed. Then a pre-case concrete base is placed on the fill, and the crawl space jack is mounted on top. After installation, the system can then be tightened and adjusted, securely supporting and lifting the floor beam above.
Crawl space support jacks work by changing the weight of your home from the beams and pushing it down into the earth under your home. The end result is a cost-effective solution which will be much more secure, clean, and quick to install than traditional concrete beams.
If your crawl space is moldy, musty or wet, you can also ask our consultant about our crawl space encapsulation products.
Durable jack posts made with galvanized steel are the most secure, corrosion-resistant crawl space solution available today. They are incredibly strong, capable of holding more than 50,000 lbs of weight per unit and are easily adjustable to make sure your house is on a solid foundation.
You can also look into our wall anchor systems to stabilize the walls in your foundation and make them stronger.
In all of the Asheville, NC area, contact Asheville Foundations & Basements, LLC for a free crawl space inspection and repair estimate.