Foundation Repair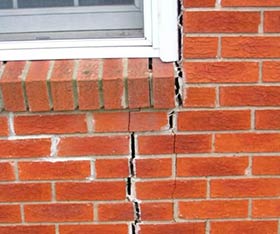 When a foundation is first built, a huge hole is dug into settled soil. Once the foundation is constructed, the removed soil is placed back around the structure. Moisture is easily caught in the spaces the loose soil fills, and can start to pass through basement walls. Eventually, many foundations start to crack, settle, bow, and lean.
For North Carolina homeowners, our team can provide you with professional foundation repair services. We have access to state of the art repair products and systems. Our products are installed without any damage to surrounding landscaping and with minimal excavation work required.
Helical and Push Piers for Settling Foundations
We use push pier systems to transfer the weight of your home with the piers from unstable ground to solid soil or bedrock. These galvanized steel piers can quickly and easily be installed in all seasons without heavy equipment, usually in one day. The push pier system stabilizes your settled foundation and will lift and return your home back to its original placement. These piers give a reliable and long-lasting solution for the lifetime of your home.
With smaller structures like your porch or patio that are sagging or showing fatigue, we will install helical pier systems. These helical piers are secured into the ground to give support to a structure with light construction equipment (or manually in some areas). Ideal for a new construction project, helical piers are used in place of push piers.
Basement Wall Anchors for Bowed Walls
Common problems in many basements are cracked, bowing walls. This damage is usually caused by pressure around the foundation which is greater than the foundation was meant to bear. Basement wall anchors can relieve that pressure and correct your basement walls. Rather than restructuring your foundation walls, basement wall anchors are a great solution for foundation repair.
Crawl Space Supports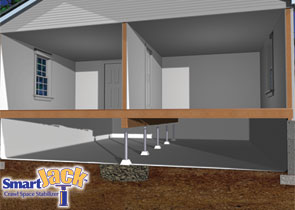 Often due to regular moisture changes, soil around a foundation can shift or settle. This natural process can result in a settled crawl space with sagging beams. Many times when a home is built, insufficient beams are overworked and will sag, causing the floor to warp. Our team use strong steel support beams to restore your crawl space to normal. This crawl space jack system is called a Smartjack.
If you have any questions, or would like to schedule a free estimate please contact Asheville Foundations & Basements, LLC today.