Sinking & Settling Foundations Fixed with Push Piers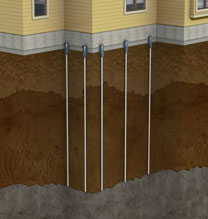 Because of the types of soil and drastic weather changes in the area, homes and buildings often sink or settle. Changes in soil conditions after construction can also be a common reason for a foundation settling. Prolonged dry weather can cause the soil to shrink - causing structures to settle. Heavy rains and saturation of the soil can cause the earth around your foundation to soften, causing the structure to "sink" into the ground. During the construction process of your home, if soil isn't compacted properly, it will eventually become a problem with the home settling - we see this with both homes and commercial buildings.
Asheville Foundations & Basements, LLC uses a push pier system that permanently repairs foundations. Often, we can lift the structure back to level, all without the expense, mess or disruption of a full foundation replacement. Durable steel piers are mechanically screwed into the earth. The piers are inserted down to appropriate depths and capacities, preventing future settlement. Heavy-duty steel foundation brackets connect to the helical piers and attach down to the foundation's footing. The weight of the structure is then carefully switched off of the original unstable soil down to compacted soil or bedrock so that your home or business is permanently stable and can be replaced to its original level.
Email us today for a free review and work repair estimate. We service all of Asheville, NC area.