Wall Crack Repair
If you have any cracks in your basement foundation they will be likely getting water coming through the wall if it's not already happening. You should have them repaired asap to avoid water intrusion and potentially damaged furniture, drywall, flooring, or ruin family heirlooms. Standing rain water can also promote mold growth and destroy indoor air quality. While it's true that most small cracks like these don't pose serious problems for the structural integrity of your home, prevention is the best approach. Crack repair on a basement wall stops water seepage only where the crack repair was done. Often times, a crack repair will last many years but be sure you understand that this is not a full basement waterproofing solution.
We use a variety of methods for basement foundation crack repair, including:
Interior Crack Repair
Depending on the size of the crack in the wall, an epoxy or polyurethane resin can be injected into the crack from the interior of the home, penetrating all the way through the entire wall and permanently sealing the entire crack. Not only will it stop water from continuing to enter your basement, but it will also help to bind the concrete wall back together and prevent further erosion of the crack.
Repair Process
Surface of the crack is exposed and cleaned.
Surface ports are affixed (approximately 6" to 16" apart).
Remainder of the crack is sealed with rapid-set material.
Resin is injected using a pressure gun through the port, starting at the bottom first.
Resin is injected until it flows from the next port above, indicating adequate penetration of material. Ports are capped when completed.
After 3 or more days, ports can easily be snapped off, and surface material removed
Exterior Crack Repair
If your basement is already finished or you prefer to have the repair completed from the outside of your home, we will excavate the area surrounding the crack and will seal it with a multi-layer, waterproof membrane that will permanently stop the water penetration.
Repair Process
Landscaping and other obstacles are removed from the work area
Dirt is excavated by hand, to footing, placing soils on protective board or sheeting
Crack is chipped out, cleaned and filled with a non-shrink mortar
Modified urethane sealant is applied, overlapping new mortar
Protective sheet membrane is applied over modified urethane
During back fill process, a wall of bentonite concentrate is built-up around the repair area
Excavated site is left mounded to allow for dirt settling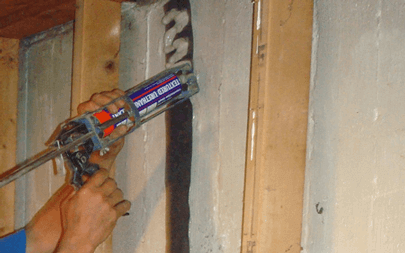 Epoxy Injection/Urethane Injection Methods
This system was designed to provide you with a permanent and effective solution to all types of wall crack problems, without needing to inject the cracks with epoxy or polyurethane. Instead, cracks are sealed with a special flexible sealant on the surface of the crack from the top to bottom. The bead will slowly stop or slow the flow of water through the crack. Next, we stick a strip of open cell foam material onto the surface of the wall. If the crack were to ever leak again, any excess water or moisture will be directed straight into a drain tile system.
Be sure to address any crack in the foundation walls as soon as you become aware of it. The repair cost is much less if the problem is handled promptly.
Contact Us
If you'd like to schedule a consultation with a member of our staff to discuss a crack repair solution that is best for your basement, please call us.