Interior Drain Systems
When water leaks into your basement, you're going to need an interior basement waterproofing system to help remove the water. Interior waterproofing is designed to mitigate and drain excess water that surrounds your basement, and remove it. This is a combination of flowing the water away from your concrete, as well as sending the water to a sump pump for draining. In either case, our interior systems are engineered to be the safeguard of your concrete foundation and basement walls. As wet basements become a common issue for homeowners, it's important that you have the right system for the job.
Our Interior Waterproofing Systems
We have two interior waterproofing systems that we use depending on the severity of water problems you have. In the midst of water leaks it can be daunting to determine exactly what you need. That's why our basement waterproofing experts assess, analyze, and apprehend that exact source of the water problem. Using proper techniques for addressing water leaks, we can determine which waterproofing system you need. We will provide recommendations based on our inspection, and may include additional services if required.
---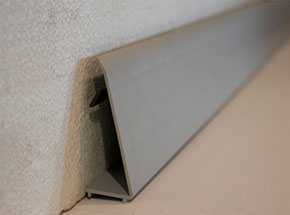 Track Water Control System
For minor leaks and pools, we use a track water control system. This small and non-intrusive waterproofing system is a tiny drain that's installed along the parameter of your basement floor. It drains water from outside of your basement wall through small holes that are drilled to relieve the pressure.
---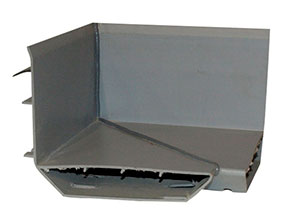 Waterproofing Draining System
The next level up in waterproofing is our draining system. This is the most popular interior waterproofing system due to it's medium range of protection from excessive amounts of water. This system will handle almost every situation of water problems. Extreme cases of water over-flow are rare, which is why draining systems are the most common system used. Using very minor excavation and a seamless drainpipe, water is drained effortlessly away from your concrete and into a sump pump. When the project is finished you'll never notice it was there.
---
Why Interior Drains Work
By exposing the water build-up along the outside of your basement wall, we can effectively relieve the pressure that is building. If this pressure becomes too powerful, it will overwhelm your basement wall causing cracks, and sometimes bowing. This damages the structural integrity of your home, which then becomes another expense to worry about.
Water mitigation and draining also allows you to save your concrete from slow deterioration. While concrete is tough, constant water exposure can wear down the material over time.
Interior drains also help address potential foundation settlement problems, where water and soil expand and contract throughout the seasons. If there's too much water in the soil surrounding your basement, it can lead to other structural problems from weak soil conditions. These conditions will cause your foundation to shift and create cracks.